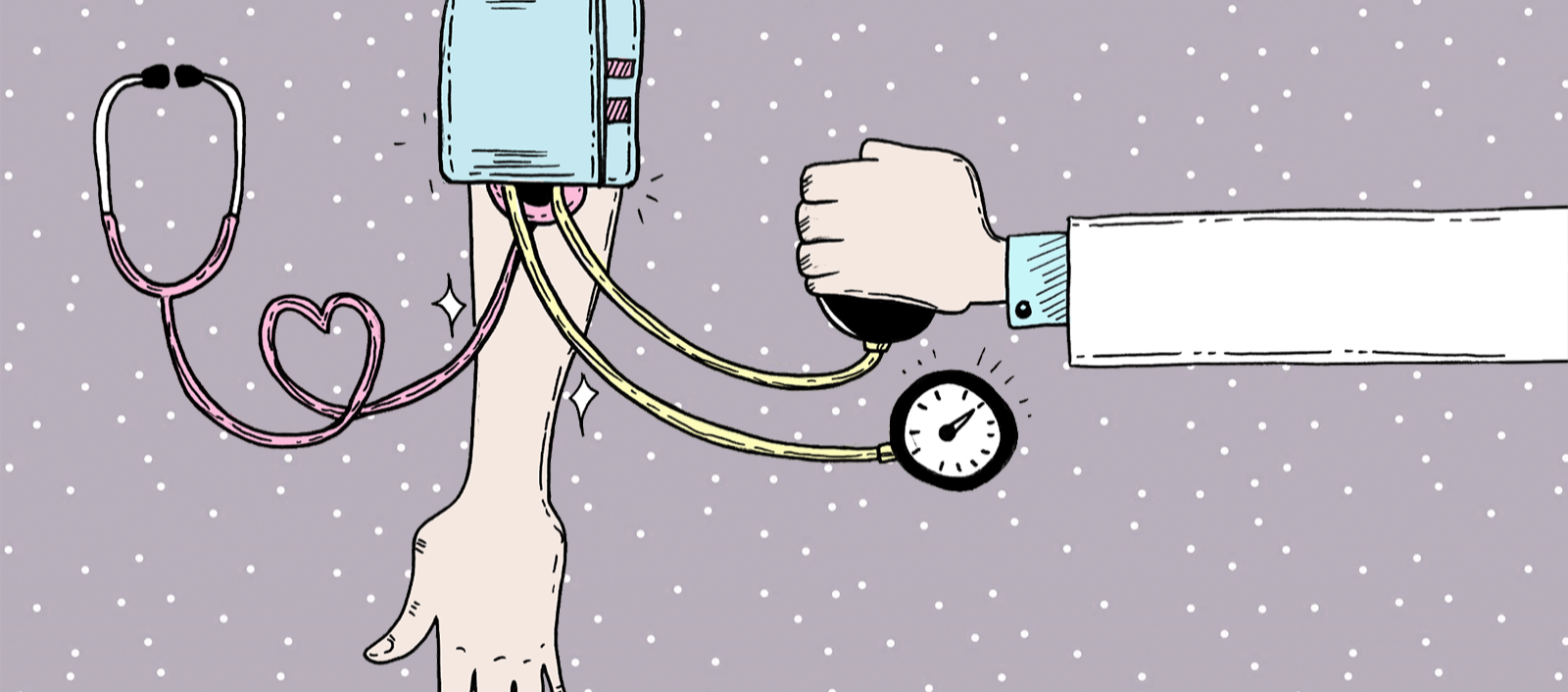 Many of the symptoms of an anxiety disorder are distressing but harmless. While long term stress can damage your health over time, most anxiety symptoms cause no lasting damage and are otherwise not indicative of any health problem.
One concern that many have about anxiety is its link to high blood pressure (hypertension). Unlike other symptoms of anxiety, high blood pressure can be dangerous, especially in those at risk for heart disease. In this article, we'll examine the link between anxiety and high blood pressure, and look at the effects of living with this risk.
Regardless of the Cause, Anxiety Needs to Be Controlled
Before getting into the relationship between anxiety and high blood pressure, the reality is that your anxiety needs to be controlled in order to avoid further raising your blood pressure. If you have high blood pressure - caused by anxiety or not - you're putting your body through considerable stress every day. Reducing anxiety is one of the first steps towards reducing the stress on your body.
Anxiety Causes High Blood Pressure
Blood pressure is not a constant. It changes all throughout the day, going from high to low depending on what you're doing, what you've eaten, how you're feeling, and so on. At any moment you could go through some type of blood pressure fluctuation that causes a high reading, and that reading says nothing about your overall health or wellness.
What is high blood pressure?
Although there are some outside factors that play a role, generally doctors look at blood pressure using the following chart:
Low Blood Pressure: <90/60
Normal Blood Pressure: 90/60 to 140/90
High Blood Pressure: 140/90 and Up
The first number refers to the systolic pressure. That is the pressure on your arteries when your heart contracts (pumps). The diastolic is the pressure on your arteries when your heart is at rest. Systolic tends to jump up and down throughout the day, while diastolic should stay close to constant (although it can still fluctuate).
Although there are risks involved with low blood pressure, most doctors pay especially close attention to high blood pressure. High blood pressure readings indicate that something could be wrong with your cardiovascular system. Because of the risks associated with high blood pressure, it is important to see a doctor. But if other factors have been ruled out, it is possible that anxiety may be to blame.
Anxiety causes high blood pressure by increasing heart rate and constricting the blood vessels. Anxiety does not cause any permanent change to a person's body that leads to high blood pressure, however. Rather, it simply causes a spike in blood pressure that may last until the anxiety dissipates.
Those with high anxiety may experience high blood pressure often as a result of their anxiety, but any time they are able to reduce their level of anxiety, their blood pressure should return to their normal baseline.
Anxiety Causes Low Blood Pressure
What you may not know is that some forms of anxiety can cause low blood pressure as well. During periods of anxiety attacks, a person may start to hyperventilate. Hyperventilation occurs when the body gets too much oxygen through either fast breathing or taking breaths that are too deep.
Hyperventilation is known to cause drops in blood pressure that can lead to feelings of lightheadedness and dizziness. So while high blood pressure is more common during anxiety, low blood pressure may occur as well.
High Blood Pressure May Cause Anxiety
Whether or not high blood pressure directly causes anxiety is less clear. More often than not, anxiety causes high blood pressure first, which causes the person to worry about their blood pressure and ultimately experience more anxiety.
It's possible that high (or low) blood pressure does cause anxiety, but most likely the anxiety is a response to the high blood pressure experience, or to concerns over a person's health. Most people can't feel their blood pressure because high blood pressure on its own doesn't cause any symptoms. But some of the other causes of high blood pressure may cause a person to feel more anxiety.
Temporary Spikes Are Not Dangerous
Those with chronic anxiety may be more prone to high blood pressure spikes, but the body does do a good job of adjusting and blood pressure often gets back to its normal rate for most of the day. You can't necessarily feel high blood pressure, and while any stress on the body can cause anxiety, it's more likely that your anxiety causes the spikes than the other way around.
It's never a bad idea to speak with a doctor about your blood pressure concerns either. Only a doctor can tell you if there is something you should worry about. Also, remember that the more you worry about your blood pressure, the more anxiety you'll experience, and the more likely you'll suffer from these blood pressure spikes.
Don't Be Too Concerned - But Get Help
High blood pressure spikes can be a concern in those with heart disease, but are generally harmless in those without. Still, you never want to deal with too much high blood pressure. Hypertension can put stress on your heart and possibly damage your blood vessels. That's why even though there isn't necessarily any danger to experiencing these blood pressure spikes, you should still make reducing your anxiety a priority.